Is Investing in an E85 Tune Beneficial?
October 18, 2023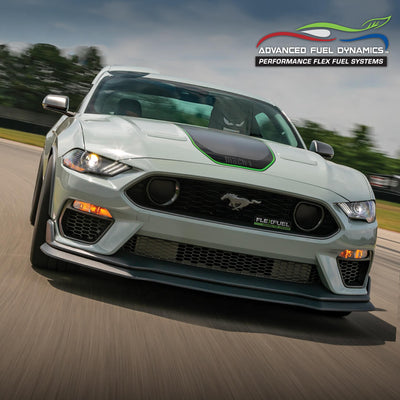 Opting for an E85 tune can indeed prove to be a beneficial decision. It offers enhanced power and promotes a cleaner combustion process. A flex fuel tune excels at delivering power with improved control and fueling precision, elevating your vehicle's performance. A minor caveat of E85 is that its ethanol content fluctuates between 51 and 85 percent, which might alter fueling up to 20 percent.
Lots of people search online for "e85 tune mustang GT". Upgrading a Mustang GT to an E85 tune is a simple process involving an aftermarket tune and fuel injectors. Considering a fuel pump upgrade can be advantageous as it allows for more fuel flow through the engine. The choice of fuel injector largely depends on the boost and octane in forced induction scenarios.
Typically, 28-pound injectors suffice for less than ten psi and an octane of 93. For more demanding situations, a 1000-cc injector upgrade can be an excellent choice, supporting up to 900 horsepower and ensuring a safety cushion. Adaptive 5.7 HEMI flex fuel systems in V-8-equipped RAM trucks run cooler and generate more power with E85.
Establishing a plug-and-play flex-fuel system for RAM trucks is a process that takes roughly an hour, needs no tuning, and increases the power output. The main drawback of E85 is its lower density compared to conventional gasoline, resulting in increased fuel consumption for the same distance.
However, E85 can boost horsepower by approximately ten percent over racing fuels in turbocharged applications, although some modifications might be required. Non-turbocharged vehicles can also achieve modest power gains. E85 becomes a worthwhile investment because it is available at a discount, sometimes 20 percent or more. With E85 and the right tuning, one can achieve power gains surpassing those of premium gasoline.
The ProFlex Commander Performance E85 Flex Fuel System is a plug-and-play (full bolt on) performance E85 flex fuel system with dyno-proven horsepower gains. ProFlex Commander provides you the ability to run E85, gasoline, or any blend of the two, seamlessly right out of the box without the need to tune or switch maps. It actively reads the ethanol content in real-time and adjusts the injectors accordingly, optimizing performance. You get plug-and-play power in under an hour.