Archive for category: Media Release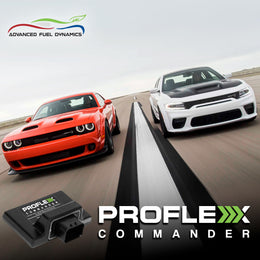 March 24, 2023 Advanced Fuel Dynamics (AFD), a leading provider of performance fuel system solutions, has announced the release of its latest generation ProFlex Commander, version 4.0.1, for late model Mopar vehicles. The ProFlex Commander Gen 4 features improved digital injector management and resolves any erroneous check engine lights, making...
MARCH 24, 2023
Advanced Fuel Dynamics releases its plug-and-play PROFLEX Commander performance flex fuel system delivering an increase in horsepower and torque for UTVs. Troy, Texas (August, 2018) – Advanced Fuel Dynamics, the leading manufacturer of performance flex fuel systems, released its PROFLEX Commander flex fuel system for multiple UTV applications. Available for...
AUGUST 16, 2018