Improving E85 Flex Fuel Performance for C6 LS2 Corvette
February 14, 2018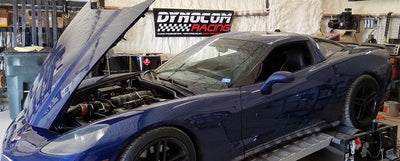 If you read our
last blog post,
you already know that OEM vehicle manufacturers aren't concerned with including E85 flex fuel capability in their vehicles for performance reasons. This can be a major hurdle when you're trying to tune your vehicle to take advantage of the horsepower and torque gains that can be had using E85. On a dynamic sports car like the Chevy Corvette, the process can be frustrating and disappointing if you're forced to work with the stock hardware and an off-the-shelf E85 flex fuel tune. But the
new PROFLEX Commander for the 2005-2007 Chevrolet C6 LS2 Corvette
offers hassle-free, plug-and-play E85 flex fuel performance right out of the box. Now you can finally take advantage of all the performance benefits that ethanol provides and have an inexpensive and easy-to-find alternative to race gas. [embed]https://www.youtube.com/embed/GPRxPFvsFpo[/embed] Many GM performance vehicles, including the C6 LS2 Corvette, have had E85 flex fuel capability built-in to the ECU software since the later-2000's. But the stock E85 programs are locked from the factory and the car lacks an ethanol sensor. In theory it is very easy to convert your Corvette to be flex fuel. All you need to do is install an ethanol sensor and unlock the E85 tables with a plug-in tuner which is the method used by most tuning shops and E85 kits designed for the C6 LS2 Corvette. But once you install an ethanol sensor and unlock the E85 programs, you're still left with the stock fueling tables from GM that were never intended for performance and which will leave your V8 sportscar feeling weak and tired. Because the stock GM E85 flex fuel tables that are programmed into the ECU at the factory have a very low resolution, they prevent your Corvette from achieving its full potential on E85, leaving power on the table. The reason for this substandard performance is that early use of E85 was focused on padding fuel economy ratings. The vehicles that were advertised as Flex-Fuel capable had an ethanol sensor installed and the E85 programs unlocked, and though they usually didn't perform as well as with gasoline, the results were sufficient enough to pass EPA requirements for alternative fuel usage and increase the fuel economy ratings of those models, and the entire GM fleet by extension. However, GM is always wary of upsetting a proven formula for their top-tier Corvette and so the E85 programs were disabled and the ethanol sensor was omitted to prevent drivers from experiencing any inconsistency in performance. But the basic programs inside the software are still present and can be unlocked by an enterprising tuner. We knew that we could come up with a better way to run E85 in the C6 Corvette. The
PROFLEX Commander for the C6 Corvette
doesn't use the poor stock flex fuel tables but instead handles everything to allow users to run E85 and any other ethanol blend they want without the need to switch programs. There is no waiting for the fuel trims to compensate for a lean or rich mixture either since the system ensures 100% safe engine operation, eliminating any potential for a lean or rich condition. The PROFLEX Commander system showed gains of over 20TQ as early as 3,000 rpm and peak gains of
13+ horsepower and 18+ pound-feet of torque at the wheels
in our dyno tests.
Like our other PROFLEX Commander E85 Flex Fuel Systems, our C6 Corvette kit comes with
comprehensive and easy to follow instructions
and can be installed on your own without the need for specialized tools.