ProFlex Commander for Coyote, VooDoo, Hemi or LS Crate Engine Swap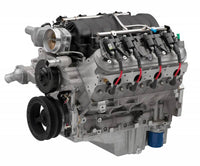 The ProFlex Commander for your crate engine swap is a plug-and-play performance E85 flex fuel system for the any Coyote, VooDoo, Gen3 Hemi or LS engine in a non-native car. Right out of the box, you can run E85, gasoline, or any blend of the two seamlessly and without additional tuning or the need to switch maps.  Compatible with all OE ECUs and PCMs.  
Choose Commander Pro
Choose ProFlex Commander Pro for your vehicle if you have aftermarket forced induction or aftermarket 600cc/60lb/hr or larger injectors
ProFlex Commander PRO was specifically designed for improved injector function in forced induction and large injector environments.
Please note: Customers with an existing tune can have the code eliminated by their tuner. We are happy to provide detailed instructions to your tuner. Modified cars may require injector upgrades. Please contact us for more information.
Use our iOS or Android app to connect to your PROFLEX Commander!
What comes in the box:
-ProFlex Commander Unit for your crate engine with Smartphone Connectivity
-Flex Fuel Sensor with extra long quick-connect fuel lines 
-Plug-and-Play Wiring Harness for your specific engine swap
The ProFlex Commander product line is backed by a limited 12 month warranty. Learn more.