ProFlex Commander for BMW E39 M5 (S62)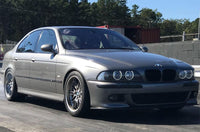 The patented ProFlex™ Commander adaptive flex fuel system for 1998-03 BMW E39 M5 allows you to start making more power and running cooler with E85. True plug and play flex-fuel for your M5 in about an hour with no tuning required.
ProFlex Commander Features:
Complete system - everything you need to run E85
100% Dyno tested for safety, durability and power gains
Easy installation for your professional BMW shop (see note)
Patented BlendSense™ technology adjusts in real time with 30 millisecond refresh rate
True flex fuel - switch from gas to ethanol and back anytime
Improved injector management for more power on gas or E85
7-10% More wheel HP and torque on E85 (dyno proven)
No tuning required - Compatible with stock or performance gas tunes; instantly adapts to new tunes
Cleaner emissions and cooler cylinder, oil and coolant temps
Race grade fuel at the pump - high octane, low cost
Compatible with power adders and bolt-ons
ProFlex Connect app provides accurate, real-time ethanol content on your iPhone or Android device via BT Wireless communication
Cold Start Plus™ - improves fuel atomization for easier starting in cold weather
NOTE: While most of our systems are DIY your M5 requires specific routing around sensitive accelerator linkage.  Professional installation is recommended.
This System Fits: 1998-03 E39 M5 
Choose Commander Pro (option below)

Choose the ProFlex Commander Pro for your vehicle if you have aftermarket forced induction or aftermarket 600cc/60lb/hr or larger injectors.  If you plan to make these upgrades later order the PRO.  It will work fine with your existing set-up and will automatically adapt when you install your upgrades.
The Commander PRO was specifically designed for improved injector function in forced induction
The ProFlex Commander product line is backed by a limited 12 month warranty. Learn more.