ProFlex Commander for LS Swap (LSx)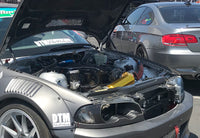 The ProFlex Commander for 1997-2015 GM LS Engine Swap (LSx) is a plug-and-play performance E85 flex fuel system giving your vehicle the ability to run E85, gas, or any blend right out of the box without the need to tune or switch maps. Please ensure that your build has injectors and a fuel pump setup that are capable of flowing full E85 before you install the system and begin using E85 fuel.
Due to the nature of swapping an engine there are many injector configurations. Please choose the configuration that you need for your build.
Please contact us if you if you have any questions. We are happy to assist you.
Use our iOS or Android app to connect to your ProFlex Commander!
Choose Commander Pro
Choose ProFlex Commander Pro for your vehicle if you have aftermarket forced induction or aftermarket 600cc/60lb/hr or larger injectors
ProFlex Commander PRO was specifically designed for improved injector function in forced induction and large injector environments.
What comes in the box:
-ProFlex Commander Unit for LS engine with Smartphone Connectivity
-Flex Fuel Sensor with fuel line and fittings for LS engine
-Plug-and-Play Wiring Harness for LS engine
The ProFlex Commander product line is backed by a limited 12 month warranty. Learn more.