Fuel Injectors for GEN3 HEMI 6.2L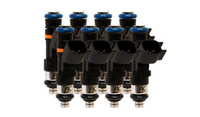 Advanced Fuel Dynamics proudly offers FIC and Deatschwerks
injectors depending on application. These injectors are all dynamically
flow matched as a set, ensuring optimal balance, performance and reliability in
performance applications. All injector sets include fuel tables for easy
installation.
Choose the appropriate injectors for your horsepower goals in the
chart below.  All horsepower numbers in the chart are expressed in wheel
horsepower and assume stock fuel pressure and 90% duty cycle
operation. This provides a 10% horsepower cushion in the
calculations.
Additional sizes available. Contact us if you don't see what you need.
GEN3-HEMI-6.2L