FlexLink flex fuel kit for Stand Alone ECUs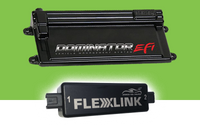 The FlexLink flex fuel sensor system for stand alone ECUs provides fuel content data to most popular stand alone ECUs.   Our FlexLink communication module (included) interprets the sensor data into an output format that can be recognized by the ECU which makes adding flex to your stand alone a snap.
This Kit Features:
Provides fuel content data to your ECU in the appropriate format for flex fuel management
Includes virtual content gauge via BT Wireless to ProFlex connect app for iOS & Android devices.
Wired 5v input and output for data logging - with fuel content and fuel temperature data
Billet aluminum case 
Accurate real-time data with 30-millisecond refresh rate
Compatible with Holley, AEM, MoTech, FAST, Haltech, Megasquirt, Gotech and other ECUs with flex fuel feature (see note below)
This System Includes:
FlexLink communication module - with wireless and wired output
Genuine GM/Continental fuel content sensor
Quick connect sensor fuel lines
Plug and play wiring harnesses for power-up and data transfer
NOTE: Most stand alone ECUs have a sensor input lead in the wiring harness to provide data to the ECU for fuel content and an open cell in the ECU for loading a flex map.  Check with your ECU manufacturer to verify that your ECU is compatible with flex fuel mapping and has a dedicated sensor input lead.