FlexLink flex fuel system for 2014-19 C7 Corvette Stingray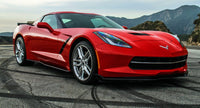 The FlexLink E85 flex fuel system for your 2014 to 2019 C7 Corvette Stingray is a complete ethanol content system for use with the flex fuel mapping that already exists in your ECU. With FlexLink you can run E85 in your C7 Corvette and switch from gas to ethanol anytime.
Running E85 will give you more power, cheaper fuel at the pump, lower cylinder, oil and coolant temps and cleaner emissions and zero knock.  Naturally aspirated cars will see a 7-8% wheel HP boost.  Forced induction cars generally see a 9-10% wheel HP boost.
FlexLink flex fuel kit features:
True adaptive flex fuel - run gas, E85 or any blend of gas and ethanol, switch whenever you want to
Real time content - with 30 millisecond refresh rate
Compatibility with your OE ECU
BT Wireless content gauge via the included ProFlex Connect app
5v input and output for custom tuning (if desired)
Easy plug and play wiring harness that connects to existing power source under the hood.  
This FlexLink system includes:
FlexLink BT Wireless communication module - allows you to view your real time ethanol content via our ProFlex Connect smartphone app for Apple or Android. 
Genuine GM fuel content sensor
Quick connect OE quality fuel lines
Plug and play wiring harness
5v data input and output for data logging and tuning based on both fuel content and fuel temperature.
INSTAlLATION NOTE: Once the FlexLink system is installed you will need to visit your local tuning shop to have the system activated on your ECU.  This is a fairly simple on/off setting.  Call us at 866.902.3835 if you'd like more details.