ProFlex Commander for 2007-15 W204 Mercedes 6.3L AMG (M156)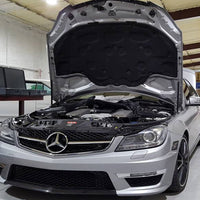 The patented ProFlex™ Commander adaptive flex fuel system for 2007-15 Mercedes C63 AMG and other 6.3L AMG vehicles allows you to start making more power and running cooler with E85. True plug and play flex-fuel for your AMC in about an hour with no tuning required.

ProFlex Commander Features:
Complete system - everything you need to run E85
100% Dyno tested for safety, durability and power gains
Easy DIY installation - Under an hour with common tools 
Patented BlendSense™ technology adjusts in real time with 30 millisecond refresh rate
True flex fuel - switch from gas to ethanol and back anytime
Improved injector management for more power on gas or E85
7-10% More wheel HP and torque on E85 (dyno proven)
No tuning required - Compatible with stock or performance gas tunes; instantly adapts to new tunes
Cleaner emissions and cooler cylinder, oil and coolant temps
Race grade fuel at the pump - high octane, low cost
Compatible with power adders and bolt-ons
ProFlex Connect app provides accurate, real-time ethanol content on your iPhone or Android device via BT Wireless communication
Cold Start Plus™ - improves fuel atomization for easier starting in cold weather
This system fits: 2007-15 C63, 2009-11 E63, 2007-15 CLK63,
2007-15 CLS63, 2007-15 CL63 and 2007-15 SL63
PLEASE NOTE: Customers with headers will require upgraded fuel injectors to safely run full E85. Fuel injectors are not included with this system. Please contact us to add injectors to your order.
Use our iOS or Android app to connect to your PROFLEX Commander!
The ProFlex Commander product line is backed by a limited 12 month warranty. Learn more.