ProFlex Commander for Honda GROM (new price)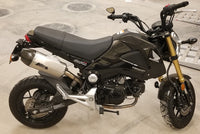 The ProFlex Commander for Honda Grom adds even more power and excitement to your Grom
Use our iOS or Android app to connect to your PROFLEX Commander!
Choose Commander Pro
Choose ProFlex Commander Pro for your vehicle if you have aftermarket forced induction or aftermarket 600cc/60lb/hr or larger injectors
ProFlex Commander PRO was specifically designed for improved injector function in forced induction and large injector environments.
What comes in the box:
-PROFLEX Commander Unit for Honda Grom engine with Smartphone Connectivity
-Flex Fuel Sensor with fuel line and fittings for Honda Grom engine
-Plug-and-Play Wiring Harness for Honda Grom engine
The ProFlex Commander product line is backed by a limited 12 month warranty. Learn more.