Maximizing Mopar Muscle: ProFlex Commander's Performance Boost with E85
July 27, 2023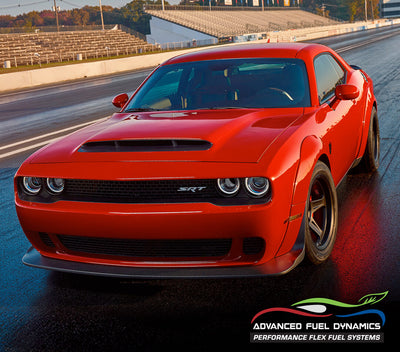 One of the hot topics in the world of fuels these days is E85, so named since it's roughly 85 percent ethanol (alcohol) and the rest gasoline. Essentially, E85 is a high-level ethanol-gasoline mix containing 51-83% ethanol and the rest pure gasoline. E85 is also termed a "flex fuel" since you can tune a car to run either E85 or straight gasoline. Alcohol burns cleaner than gasoline since it's not a "fossil fuel" and in theory it's far better for the environment in other ways since it's a naturally self-sustaining fuel, being generated from crops (like wheat and corn) and not pumped out of the ground. Alcohol makes a lot more power as well, so an E85-burning vehicle theoretically runs harder than a gas-burner. And we all know how alcohol is a good race fuel for cars tuned to accept it. With the ever-present "global warming" scare and the efforts to curb emissions in its name, Flex fuel is all the rage now and shops are out there to take full advantage of the performance and decreased emissions that come with running E85.
Advanced Fuel Dynamics was founded a decade ago by a tuner whose E85 tunes were always "off" on their tunes, and he set out to find out why. What he discovered is that E85 at the pump is incredibly inconsistent in its actual ethanol content and since tunes take everything into account except how much ethanol is actually in the vehicle, they are consistently wrong. Realizing that the only way to consistently make the most power from ethanol is to build a true performance flex fuel system, he set out to create what would become the ProFlex Commander flex fuel kit. Advanced Fuel Dynamics has grown from a one-man shop to a company with high-quality full bolt on products and a growing list of vehicle applications. Our products have been rigorously tested on the track, street, and dyno and our employees use our products every day!
The ProFlex Commanders are now available for a variety of vehicles that covers pretty much everything on the road today, allowing you to run an E85 tune in whatever you want to. Advanced Fuel Dynamics has a selection of fuel injectors, and a FlexLink Ethanol Comm Module provides a Bluetooth signal for use with the ProFlex Connect virtual ethanol gauge app and provides separate 5v wired output for data logging of fuel content and fuel temperature. If you're thinking of converting your vehicle to E85 or an alcohol-based fuel, you need to look into Advance Fuel Dynamics!