Boost Your MOPAR Muscle: How FlexFuel Can Maximize Performance
June 02, 2023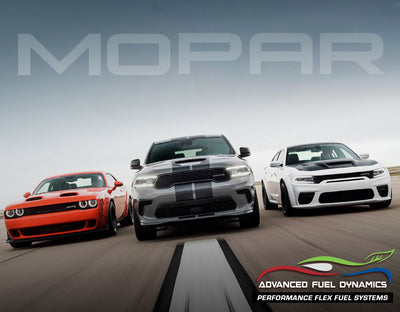 Are you a proud owner of a Dodge Challenger R/T, SRT, or SRT8? Do you crave more power and want to run cooler? If so, then the patented ProFlex™ Commander adaptive flex fuel system is here to unleash the true potential of your Dodge/MOPAR vehicle. In this blog post, we'll explore how FlexFuel can maximize your performance, providing you with an exhilarating driving experience like never before.
With the ProFlex Commander, you can start making more power and running cooler with E85 fuel. This complete system comes with everything you need to run E85 efficiently and effectively. The best part? No tuning is required, making it an easy DIY installation that can be done in under an hour with common tools. It's true plug and play flex-fuel for your 5.7L or 6.1L HEMI engine.
One of the standout features of the ProFlex Commander is its patented BlendSense™ technology. This innovative technology adjusts in real-time with a remarkable 30-millisecond refresh rate, ensuring optimal performance and safety. Whether you're running on gas or ethanol, the ProFlex Commander adapts seamlessly, giving you the flexibility to switch between fuels whenever you desire.
The benefits of using FlexFuel go beyond just increased power. With the ProFlex Commander, you can experience a noticeable improvement in wheel horsepower and torque on E85, with dyno-proven results showing gains of 7-10%. Imagine the thrill of unleashing that extra power on the road or track. Moreover, the ProFlex Commander offers improved injector management, maximizing power gains whether you're running on gas or E85.
Concerned about emissions and engine temperature? FlexFuel has you covered. By using E85, you can enjoy cleaner emissions and cooler cylinder, oil, and coolant temperatures. This means not only a greener ride but also a more efficient and reliable engine.
Worried about compatibility with your existing setup or future upgrades? Don't be. The ProFlex Commander is designed to be compatible with stock or performance gas tunes and can instantly adapt to new tunes. If you have aftermarket forced induction or aftermarket 600cc/60lb/hr or larger injectors, the ProFlex Commander Pro is the ideal choice for you. It is specifically designed for improved injector function in forced induction and large injector environments, ensuring optimal performance with your upgrades.
Additionally, the ProFlex Commander provides accurate, real-time ethanol content information through the ProFlex Connect app. Available for iPhone and Android devices, this app allows you to monitor the ethanol content in your fuel, ensuring you have the right blend for your driving needs.
FlexFuel not only enhances your driving experience but also saves you money at the pump. E85 fuel, a blend of ethanol and gasoline, is often priced lower than traditional gasoline, making it a cost-effective option for MOPAR enthusiasts. Plus, E85 is a race-grade fuel, offering high octane performance without breaking the bank.
Ready to unleash the full potential of your MOPAR muscle? Upgrade your Dodge Challenger with the ProFlex™ Commander adaptive flex fuel system. Experience the thrill of more power, improved performance, and cooler running temperatures. Whether you're a seasoned gearhead or a performance enthusiast, FlexFuel is the game-changer you've been waiting for.
Maximize your MOPAR muscle with FlexFuel. Visit our website now to learn more about the ProFlex Commander and take your Dodge Challenger to the next level.